Introduction
Much of the power of art lies in abstract concepts. But when it comes to art insurance, nothing should be left open to interpretation.
Insuring your most precious and prized possessions is something that requires a thorough approach. A solid understanding of the terms and conditions at play is of paramount importance, whether it is to protect an arts-based business from instances of risk, or to support private collectors after the painful experience of losing a much-loved art piece.

You'd think that this would just be a message that applies to the collectors, gallery owners and other art service providers of this world. But unfortunately, this cautionary message is just as pertinent to those providing insurance cover as it is to those that are in need of it.
All owners of art – no matter how elaborate, expansive or expensive their collection – should work with insurance brokers who truly understand the love they feel for the pieces in their collection.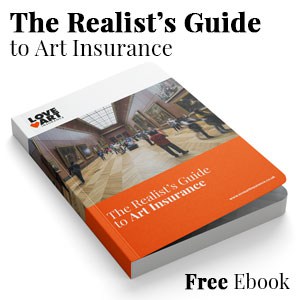 Art insurance brokers should not only deliver a bespoke service that is appropriate to their client's unique collection of art, but also strive to act within their best interests, and provide a high level of service that is suited to their needs overall.
Sometimes that means making difficult decisions – decisions that the collector in question may not realise the benefits of straight away.
Negligence of art insurance always bears an incredibly costly risk. Whether it's a negligence of the final details of art insurance cover policies, or negligence of art insurance in general.
The costs we refer to here aren't just financial ones either. Incidents of loss, damage, theft or public liability can have a catastrophic impact on your business reputation and integrity. And in an industry where impressions are everything, this can prove fatal.
At Brownhill, we know that those in the art world are no stranger to changing the perspectives of others. We are determined to change the mainstream understanding of what art insurance is, what people need to know about it, and what aspects of it are subject to all-too common misconception – even amongst revered names in the industry.
Read on to find out what you can do to safeguard your collection, whatever the scale and purpose of it, and how you can be sure that you are working with a broker that understands the love you have for your art. 
'You mean that's not covered already?' Fine art insurance explained
Many people don't realise the importance of art insurance until it's too late.

In a handful of cases, this is due to flatout negligence on the part of the owner or collector. More often than not though, people in the art world go through crushing financial and reputational losses on account of nothing more than simple, easily-made mistakes. And many of these stem from misconceptions around art insurance policies.

That's why we really mean it when we say it pays to know the vital importance of art insurance.

So to that end, we're going to break it down for you in this section, and help address some common errors and points of confusion.
Home, shop or office insurance is usually not enough
Many owners of fine art presume that it will be blanket-protected by the terms and conditions of a generic form of cover for their shop, office, or home.
This is an all-too common mistake that is made by professionals working in the art world. Even by those who have been heavily involved in it for years.

The truth of the matter is that policies like these only really cover the most basic aspects of insurance, which will mean they are of low value at best.

Many shop, office and household insurance policies that claim to cover art don't take value appreciation into account. In fact, some of these cover policies account for little more than the cost of the paint and the paper itself – when we all know that fine art is worth astronomically more than its weight.
Artists can no longer afford to overlook insurance
It's a generalisation, but one that is largely true nonetheless – many artists still don't realise the importance of insurance.
When you're a creatively-minded person, the admin side of art always feels laborious, and can even feel like a process that suppresses the very air of liberation and spontaneity that makes art so beautiful.

We get it, art should in its essence be about feeling and emotion, not legalese and dotted lines. But that doesn't mean it's wise to cut out these processes altogether.

The long-term costs one may save by not taking out a cover policy will be quickly overshadowed by the losses incurred in the events of theft, damage, misplacement etc. Not to mention the cost of replacing or restoring said art.

Key things to remember…
Fine art is a very specialised area of insurance, and it therefore takes a very specialised response for gallery owners, collectors or businesses to get the bespoke solution they need.

The problem is that most insurance companies simply aren't going to provide you with the best terms and conditions for your needs, but that won't necessarily stop them from trying to sell you a generic policy.
You need to be armed with the knowledge of what terms and conditions are best for you.
So what's most important first and foremost is that you insist on working with a provider that has an understanding of art. Not just of its inherent vulnerability and fragility, but a general familiarity with the routine functions of the art marketplace.
It can also help to educate yourself on potential pitfalls in this area (like you're doing now…be sure to do more of this), and how generic forms of art cover do not protect art in the ways that it should.

Armed with the right knowledge, you can push for better insurance terms relative to the premiums you pay, and most importantly, rest assured that your best interests are protected.
As a final takeaway, just remember that fine art work requires protection from a number of different factors.

An art insurance policy worth its salt must take the following into consideration:-
Accidental damage

Natural disasters

Theft

Accidental damage incurred away from home

Damage incurred in transit

Damage incurred in storage
The best policies will offer 'all risks' cover.
Points of consideration for the digital age
A good deal of contemporary, high value art is now created digitally. And this is a rapidly growing area which provides a whole host of new challenges for many art insurers.

Artists that make regular use of digital equipment should be diligent and factor potential loss or damage of their digital equipment to their policy too.

Cameras, laptops, projectors and everything in between are expensive pieces of equipment that can easily be damaged, or lost. It is wise therefore to ensure you take out cover for these individual items.

Different fine art insurance considerations for businesses

Whatever your business in the world of art, the chances are you will need a highly bespoke insurance policy, with terms and conditions that are tailored to suit you and fulfill your needs.

You need a broker capable of providing comprehensive support, and a holistic perspective of your situation, and the insurance measures that can help.

A range of arts businesses require a range of different art insurance policies.
Exhibitions
Art exhibitions are always a highly complex affair, with lots of moving parts to organise and precautions to be aware of.
This is even more true for exhibition insurance. Gallery owners need cover with highly specialised terms and conditions whenever lending, borrowing or showcasing the work of other artists.
With so many areas of potential risk, and a heavier sense of responsibility on your shoulders as someone entrusted with the magnum opus of someone's creative talent, exhibition is an area where you need to ensure your cover is absolutely watertight.
Galleries
Whether you're an established art dealer or an up-and-coming gallery owner, you'll need comprehensive support. 
It helps to have a broker with a strong network and level of specialised expertise in the insurance and art markets.
Gallery owners must not only determine they have appropriate insurance measures in place with regards to contents needs and risks, but also the level of security at their property, as well as any additional security measures they may need to scale up for a given event, or even a private viewing.
If you regularly transport your works to art fairs, higher levels of cover will need to be sourced to ensure your cover policy remains intact even when away from your premises. 
You will also need to consider public liability and employers' liability too.
Art insurance for collectors
Private collectors
Many collectors assume that their collections will be covered by their home insurance policy. This may be the case when the value of the items is low, but higher value collections are, across the board, not sufficiently protected by home insurance policies.

In fact, if you have not informed your insurer that you have a private collection and also not advised them of its overall value, you can actually run the risk of invalidating your coverage altogether.
As mentioned above, home Insurance will also not cover any appreciation in the value of your artworks, and home insurers do not have access to restoration experts and art loss adjusters – which are vital connections if you wish for any claim to be dealt with swiftly and efficiently.
In circumstances like these, we recommend standalone art coverage. Both for the better coverage it will offer, and the expert claims assistance that comes with it.

Standalone policies also tend to be more flexible, allowing you to add new items to your inventory when bought, and delete items from your collection when they are sold. 
Corporate Collectors
Many businesses with art collections only have their pieces insured as far as an extension of their office insurance policy will cover them. As you may have predicted, that isn't particularly far.

Office insurance policies for art can lead to a number of issues, namely with valuations in the event of a claim, and indeed the basis of the coverage provided. Some insurers may offer coverage on the basis of an agreed value, but what if the value of that artwork increases substantially due to a sudden spike of interest around a particular artist or piece?
Just as it is with private collectors, specialist standalone coverage is your best bet here.

Standalone coverage can give you peace of mind by assuring you that your artworks – as business assets – are covered in the best possible way should they ever be damaged or stolen.